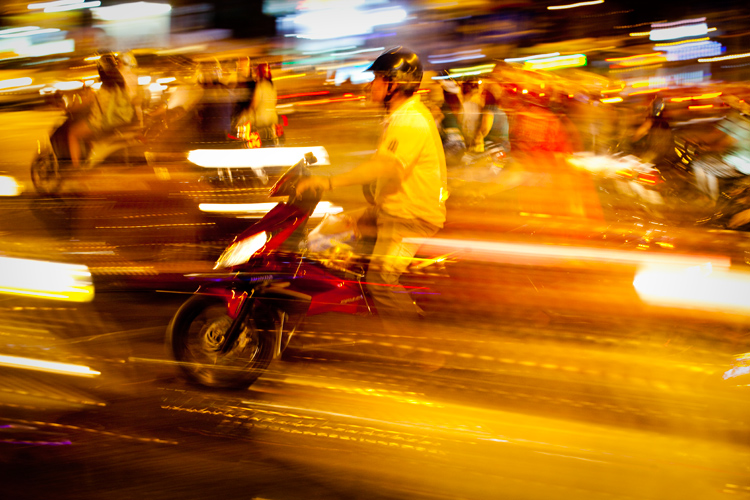 Jacko was reminding me to put up some pictures from the madness of Saigon traffic ……. he wants to see some of the images I made that show the mega reliance on scooters and motorbikes and the culture that creates :-)))).
It is after all the first thing that strikes you when you arrive in that mighty City …….. a place that is half known by its old name of Saigon and half known by its newer name of Ho Chi Minh City ……….
Yeah, the first thing you think when you arrive is how on earth am I gonna cross the road ? …….. cos the roads are like flowing rivers of constant motorbike traffic ……………
My 'ol mate JE was telling me the skill is walk out into the road and not look ……. Then the bikes will just flow round you ……… I did see numerous people doing just that ……… But I preferred to wait for relatively lower density traffic ……. and then walk out …… and still vaguely look …….. but the main skill reamains the same as in the non looking method …… It is to walk steadily at the same pace in a straight line without hesitation ……. no sudden moves or stops ……. the bikes do just flow round you …….. It is a total nightmare ………. hehehehe………….
Goodness knows how Jacko deals with it all day everyday :-)))))))))
Cheers Jez XXXXXXXXXXXXXX
www.jezblog.com
[ 8 ] comments
Nice blur image, as always, I love these blur pictures you do 🙂


---

kathy K @ April 24, 2014, 5:51 pm

Thanks :-)))))))) XXXXXX You know me I love to try and get the feeling of that crazed urban dynamism that you get in the streets of the big cities of the world wether its the yellow cabs of NYC or the constant flow of the Saigon scooters :-)))))))) XXXXXXXXXXCheers Jez XXXXXXXXXXXXXXXX


---

Jezblog Guangzhou China :-)))) @ April 25, 2014, 5:48 am

Are you back in China again Bro?..Thought you had come home…Never mind, when duty calls etc etc…Like this picture, just needs a nice orange 1000cc Kawaski in it….Hmmmm, now who do we know who owns one of those?.. ;?)… I managed to survive my first day of being 50…Cheers ring out..Stay safeBro xx


---

PaulS @ April 25, 2014, 12:11 pm

No I've been working here in London today bro (this computer just comments as u were unless u remember to change it) :-))))))))) Ahhhh you have hit the big Steve McGarett …… elite policing in Hawaii ……. number dude ……. you had better take the week off to recover from your party :-)))))))))))) Hope you are having a mega one bro joint partying into the small hours hehehehe……. not sure it is wise at your age mate hehehehehe……… have fun bro …… many Happy returns to you guys Happy Birthday :-))))) and all that go for it baby you gonna Party like its 1999 hehehehehe…….. if only it were hehehe…….. :-)))))))))))Happy Birthday Bro Jez XXXXXXXXXXXXXXXXXXXXXXXXXXXXXXXXXXXXXXXXXXXXXXXXXXXXXXXXX


---

Jezblog:-))))) XXXXX @ April 26, 2014, 5:39 pm

I love Saigon and Hanoi too – I've some video of that walking across the road routine you so aptly describe its only marginally less scary than actually being a passenger on the back of one of those bikes, still 2 trips there in the last year and I can't wait to go back such lovely people especially after all they have been through.


---

Stewart Atkins @ April 25, 2014, 8:22 pm

Its true bro ……. people were lovely :-))) There was a kinda Saigon madness too with all the drama of the trafic etc ……. but folks ere actually really nice ……. especially to photographers in a very accepting old school way so pleasant ……. people were really very very receptive to photography ……. I literally encountered no one who was hostile towards me and my use of cameras people seemed to love being photographed and just find it amusing ……. it was great :-))))))) XXXXXXXXXCheers bro Jez XXXXXXXXXXXXXX


---

Jezblog:-))))) XXXXX @ April 26, 2014, 5:32 pm

Was heading back home with Thuan the other day, and I saw this western guy having a great, angry rant at the traffic…obviously all the anarchy had done his brains in :-)) The Vietnamese were just doing their usual thing..and laughing at him…which only seemed to make him worse!!


---

Wacko Jackuss xx @ April 26, 2014, 2:36 am

Ah yes like SB's dad ……. a good ol rant against the world and the traffic in particular …….. its the way to go……… I think I might get into that here in London :-)))))) …… or you just have to go along with the madness ……. I was quite enjoying the madness of the driving in The Philippines ……. I went round a roundabout the wrong way at one point because everyone was …… well some here going the right way ……… I just elected to go with those going the wrong way …….. just fpr the hell of it really :-))))))) How often do you get to do that hehehehe ………… :-))))))))) XXXXXXXXXXCheers bro Jez XXXXXXXXXXXX


---

Jezblog:-))))) XXXXX @ April 26, 2014, 10:43 am