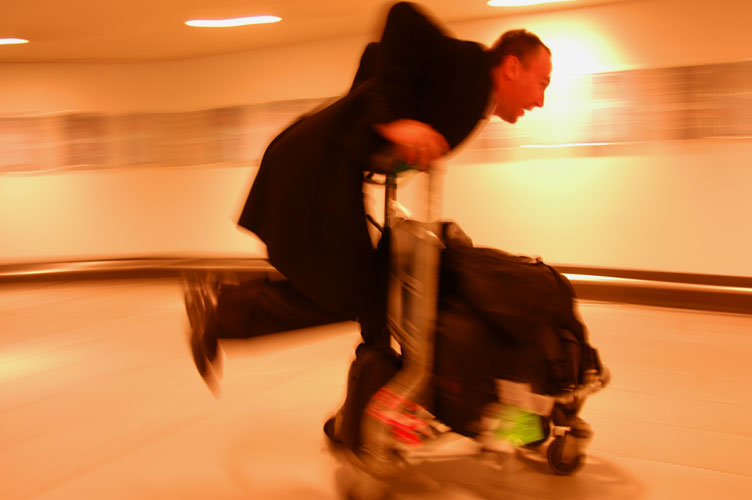 Image description:
Its JE's birthday today ……… So we got the band back together here in NYC ……. he flew into JFK earlier bringing his new girlfriend :)))
……..
so we ….. against all the odds ……. had a surprisingly civilized evening …………. hehehehe ……… One or two people told crazed stories of JE's
legendary antics and his new partner looked a tad worried …….. Of the stories told my fave JE story was the one time we managed to lose the
money for the entire shoot in a Caribbean Casino on the first night before we had shot a single picture …….. the question remains what kind of
producer would give JE the entire cash for the shoot to look after………?????? hehehe…….. A producer who soon realized at breakfast the
next day the error of her ways thats for sure ……… ://///
:))))))))
……….. but luckily no one told the exploding hat full of fireworks tale …… that
exploding hat caused people to run screaming in fear from the dance floor on a cross channel ferry as flames leap from JE's head hehehehe
…………. that one remains my fave JE tale of all time ………. hehehehehe …………. to be fair to my old mate ……… I know all this sounds
bad…… but we had all been saying how amazingly good he is at his job ……. as well as kinda crazy obviously …….. hehehehe……… But he
literally remains by a million miles professionally the bravest of all the advertising folks I know ………. no second guessing or hedging with JE
…….. he comes up with amazing concepts ……. wins his clients approval and they all love and respect him ……. and then he just goes for it
…….. no emergency plan B no safety cable ……… I really like that :))))…..
Yeah he is a tiny bit crazed but he really is a creative genius ……….
Good to see him back in NYC …….. Happy Birthday Mystro !!!!!!!!!!! XXXXXXXXXXXX
Cheers Jez XXXXXXXXXX
Here above me and JE setting out from LHR on some mega serious shoot…….. Him off his trolley as usual ………. hehehehe…………..
Cheers Jez XXXXXXXXXXXXXXXXXXXX
[ 10 ] comments
Is that you in the luggage bag ??? Hahahaahh Nice one bro! I do the same at the grocer !! 😀
KINGOFNEWYORKHACKS @ August 3, 2013, 3:25 am
Its me alright ……. I'm doing my little monkey face peeking out and shooting ……. JE is art directing at high speed in a slightly out of
control manic way as he always does hehehehehe …… :))))))))))
XXXXX
Cheers bro Jez XXXXXXXXXXXXXXXXXXXXXX
jezblog :))
XXX @ August 3, 2013, 2:50 pm
Heathrow. Minds me a a crazed element that I used to work … with. Well after the engine fire on the Tristar years back, K could not fly,
like going out in style, and a bottle of uncracked
Black labelled Johnnie Walker. Shared between two. After that, always thirst one back.
Hi K. Where you been. I was here at 7. Flight was at 2. No problem, as we worked for them, we always got a lift, to the gate! Not an
impassable scene. On the back of the trolley, K would wobble. Stooped once by the Gendarmerie, he enquired of his state. K responded
in a couple of grunts. I explained it was the only way he could fly, oh, and to the nice man with the gun. He was an Aircraft Engineer.
After the 6 hour flight, the effects normally wore off!
Nick Wells @ August 3, 2013, 4:18 am
I once flew with a writer who drank all the whiskey available in our first class cabin to Zagreb…… by the time we got to Zagreb ……
he is so hammered I need to help him off the plane…… then argue like crazy to get him on to the next plane to Split because they
think he is too hammered…….. he then sleeps all the way to Split……. then the night out in Split…… I cannot go it that…… totally
crazed ……. but I gotta be honest that was the easy bit……. cos then I have to go to the civil war in Mostar with K and he was just
as crazy for that bit and everyone else was worse……. hehehehe
Cheers Jez XXXXXXXXXXXXXXXXXXXXX
jezblog :))
XXX @ August 3, 2013, 3:05 pm
Is he rushing to get to the bar?? Anyone for G&T?? Make mine a double!!
The Ahsroles Ashrole xx @ August 3, 2013, 4:37 am
Tanqueray and Tonic make it a mega big one !!!!!!!!!!! You know when you've been Tanquerayed !!!!!!!!!! :)))))))))))
jezblog :))
XXX @ August 3, 2013, 3:10 pm
Tut,tut.. Health & Safety execs. are almost chocking on their caviar… Well, lifes for living aint it?..Ride on a trolley? Maybe upset a few
people..Spent all the shoot money in one night?..A few more upset/angry people..Fireworks on your head??..Call the people with the
restraints!..Anyway Bro, it sounds like you seem to be close by,when these events occur…hmmm.. Wheres the voice of reason?..Or are
you just egging him on?..Happy B`day JE..Stay Safe Bro
PaulS @ August 3, 2013, 6:52 am
I felt bad cos I did say put it all on Red……. but I had no idea it was all the money for the whole shoot……. but to be fair I don't think
JE knew that either by that stage of the evening hehehe…….. who on earth would give him all the money???? The job of the
producer is to make sure JE never gets anywhere near any of the money hehehehehe…….. :)))))))))))))
XXXXXXXX
Cheers bro Jez XXXXXXXXXXXXXXXX
jezblog :))
XXX @ August 3, 2013, 3:12 pm
That knd of behaviour should merit an ASBO at least
Lee @ August 3, 2013, 5:13 pm
I think he should get one …… then he could star on the front cover of " This is Grimsby " ……. hehehehe …….. :)))))))))
XXXXXXX
http://www.thisisgrimsby.co.uk/Asbobrandishingbottleshopstaff/story19592505detail/story.html#axzz2axNaBGYF
Cheers Bro :)))))))
Jez XXXXXXXXX
jezblog :))
XXX @ August 3, 2013, 8:51 pm