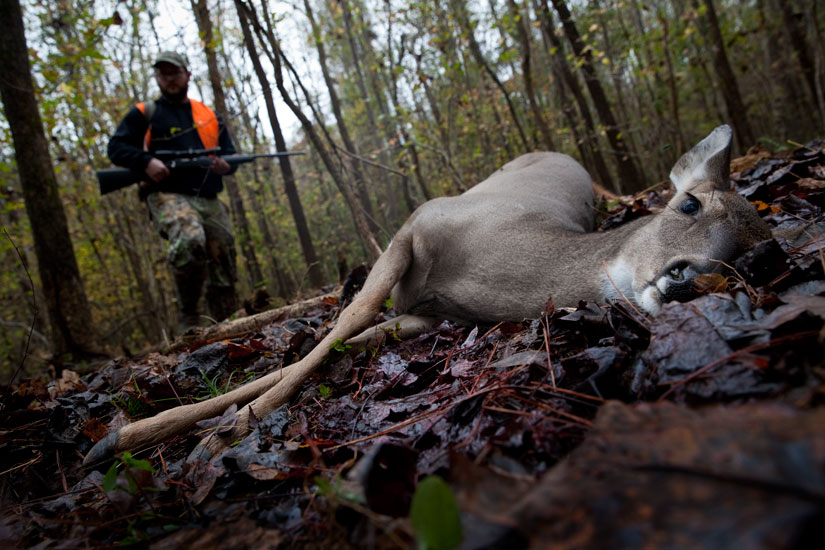 Well, I have been meaning to photograph hunting for a while. It's an important phenomena in America. Really a lot of folks make hunting a central part of their leisure time. More than that being a hunter is a profound aspect of your identity if you head for the wilderness with your gun on a regular basis. In fact hunting really is an important aspect of American culture for some. Hunters tend to be amongst America's most responsible gun owners they take seriously their hunting and the principles and practice of gun ownership. So I have been thinking for a while its important I should go on a hunt with my cameras.
So, Matt has engineered it for me to go out with a friend and neighbor of his ….. Mike.
So its all going to plan the alarm goes off at 3-45AM. Its seriously dark and early and totally pouring with rain but I am rolling in Mike's pick up by 4-30AM ……….. Mike is a great guy, an incredibly well informed interesting bloke …….. So we are having literally the most wide-ranging conversations about the ethics, politics, history, culture and the societies of different countries across the world …… Not what you might expect hanging with a hunting guy 'down South'. Well, I had been vaguely expecting the classic stereo-type if I am honest, and Mike is certainly not that. As I was rolling in his pick up at this ungodly early hour I found Mike was totally fascinating and completely awake and on the ball unlike me. He was on it … just great.
Hanging with Mike in the hide having whispered conversations and watching the wildlife listening to the river constantly flowing by was real privilege. Although it was a very long day it did not drag. He let many deer pass as they were does, he was hoping for a buck. In the end as the day was drawing to a close he decided he would take a doe after all.
He took one shot. It was totally shocking after the quiet of the day. The shot was incredibly loud in the hide, kinda devastatingly loud. It was an excellent shot the deer dropped almost instantaneously, later inspection revealed it to be the most clinical of kills. A single shot through the heart and lungs without even damaging the shoulder meat. A perfect shot.
But as we approached the deer I felt sad. Such a beautiful animal cut down. Now instead of moving gracefully and silently through the woods her carcass had to be dragged back to the vehicle at the top of the hill side.
At the top her carcass was expertly butchered by Mike with assistance from his friend Dan. Dan uses many French Charcuterie techniques to make all sorts of interesting foods from the venison meat so none is wasted. So there can really be no ethical challenge to any of this for anyone who is not fully vegetarian or vegan, and yet, I find again what I already knew, that I could just never do it. The killing and the butchering is something I could just never do as part of a leisure pursuit.
Mike and Dan and family would eat well tonight and for days to come, but I would not have the heart to eat any of the deer myself.
Cheers Jez XXXXXXX
[ 25 ] comments
Sad but good picture Jez


---

Caroline Heart @ November 10, 2015, 10:05 am

:-(((((( :-///////// :-||||||||||| :-\\\\\\\\\\\\\\ :-)))))) XXXXXX


---

Jezblog ATL :-)) XXX @ November 12, 2015, 1:04 am

To Kill a Deer
BY CAROL FROSTInto the changes of autumn brush
the doe walked, and the hide, head, and ears
were the tinsel browns. They made her.
I could not see her. She reappeared, stuffed with apples,
and I shot her. Into the pines she ran,
and I ran after. I might have lost her,
seeing no sign of blood or scuffle,
but felt myself part of the woods,
a woman with a doe's ears, and heard her
dying, counted her last breaths like a song
of dying, and found her dying.
I shot her again because her lungs rattled like castanets,
then poked her with the gun barrel
because her eyes were dusty and unreal.
I opened her belly and pushed the insides
like rotted fruit into a rabbit hole,
skinned her, broke her leg joints under my knee,
took the meat, smelled the half-digested smell
that was herself. Ah, I closed her eyes.
I left her refolded in some briars
with the last sun on her head
like a benediction, head tilted on its axis
of neck and barren bone; head bent
wordless over a death, though I heard
the night wind blowing through her fur,
heard riot in the emptied head.

---

Caroline Heart @ November 10, 2015, 11:13 am

This is the perfect poem :-/ :-)))) XXXX


---

Jezblog ATL :-)) XXX @ November 12, 2015, 1:04 am

oh JC you report as beautifully in words as you do in images. that was beautiful.


---

ann odyne @ November 10, 2015, 3:21 pm

Ah u r too kind …. although I am glad you think this does convey something about the day and the deer ……. Cheers Jez XXXX


---

Jezblog ATL :-)) XXX @ November 12, 2015, 1:06 am

Cool picture,great shot etc, but, I have to say I feel just like you Bro… Prob. different if your using it for food, but I guess thats something we havnt had to deal with very often… Good to see you back on the Blog.. Stay Safe xx


---

PaulS @ November 10, 2015, 3:24 pm

Weirdly I have been in silent running mode ……. hows things bro? How was the op? All good I hope ? Cheers Jez XXXXXX


---

Jezblog ATL :-)) XXX @ November 12, 2015, 1:08 am

All good I think, only 2 more weeks before I can go gym again.. Needless to say I made sure the family took care of me.. ha ha.. Hope all of you and yours are well, esp. Max!, Take care Bro xx


---

PaulS @ November 12, 2015, 3:57 pm

All is good I think …. Max played two games of soccer in Germany yesterday ….. won them both….. only the slight issue of playing Munich tmrw ….. agggghhhh ….. always a tough one hehehehe….. hopefully they can pull it off …. they will then be in the final of the tournament they are playing …. here's hoping :-)))Well sounds like you survived yer op OK which is great…. I have no excuse for staying out of the gym for the next two weeks or any other week but I seem to find them hehehehe…..

Cheers bro Jez XXXXXXXX

---

Jezblog ATL :-)) XXX @ November 12, 2015, 10:48 pm

Sounds like Max has passed his Fathers footie `skills`… Good stuff, playing in Germany shows he has talent.. Hmmm what did daughter aquire? I remember know, brains… Just like Mom maybe?..Dont send the boys round Dude, I`m only joking… Keep Smiling Bro, and Stay Safe xx


---

PaulS @ November 13, 2015, 1:57 pm

He has more than surpassed his dad …….. yes both B and M are way too cool and too smart and accomplished maybe I should be getting some kind of paternety test hehehehehe…….Cheers Bro Jez XXXXXX


---

Jezblog ATL :-)) XXX @ November 15, 2015, 3:57 am

Whoooaaa! That sort of joke gets you a slap from She who must be obeyed Dude!..hee hee… Hope all are well Bro, Christmas fast approaching again, where does the time go?.. Stay Safe xx


---

PaulS @ November 15, 2015, 7:12 am

I know I'm dashing about like a mad man… I'm on the internal train at HJ airport down in the big ATL. .. the next stop is for C gates… the next stop is for D gates d as in David bla bla. .. but as I was dashing through the South Terminal I thought that cannot be the chime of jingle Bells coming from one of those consession stands.. the next stop is for e gates e as in echo… that's me… but was that really jingle bells….?


---

Jezblog :-))) BOS @ November 15, 2015, 3:02 pm

So yeah here we r at E32…. but jingle bells this end of November. . We were only having guy fawkes last night at Matts and what about Thanksgiving that folks over here love…. jingle bells already… OK boarding…


---

Jezblog :-))) BOS @ November 15, 2015, 3:19 pm

Jingle Bloody Bells!! Too early People! Hey I love Christmas but, Middle of November?..Oh well, must get the shops full I suppose… Enjoy the flight(s).. Stay Safe Bro xx


---

PaulS @ November 15, 2015, 3:42 pm

Wheels up in the big ATL 🙂 XXX Aaaaaaagggggghhhhhh Jingle bells :-))) XXX


---

Jezblog :-))) BOS @ November 15, 2015, 3:49 pm

Wheels up in the big ATL 🙂 XXX


---

Jezblog :-))) BOS @ November 15, 2015, 3:47 pm

Just watched an interview with Don McCullin, he was judging a Religious Photo comp…. Some very nice shots xx


---

PaulS @ November 15, 2015, 6:24 pm

Wheels down… in NYC….Ah Don McCullin the man himself I have very few heroes… but McCullin he is certainly one… When he came out of retirement the first time… it was the beginning of the Yugoslavia crisis… the wars in Croatia and Bosnia were about to begin… and tanks were on the streets of Belgrade. .. i was on an empty flight going there… there were about 6 other photojournalists and virtually no one else… so we were all grouped together talkig… and Andrew Wizard a friend of mine says have u seen who is at the back? Mr McCullin. .. keeping himself to himself… but I think wow I am on a flight goin to a conflict zone with Don McCullin. .. I'm gonna speak to him…. so i go back and introduce myself we have a bit of a chat… then I say u know u r on the right flight goin to the right place as a photojournalist when u flying with Don McCullin. .. then he says er… so are you coming to Kurdistan too then? … er? He is only changing planes in Belgrade. … he is flying on to see the Kurds fighting Sadams forces in Northern Iraq…. hehehehe. ..i feel like a right idiot … clearly goin to the wrong war :-/// hehehehe. .. I'm in the Insight Diner on 23rd St now bro u know the place on the corner with 9th Av… home base in NYC cheers bro Jez 🙂 XXX


---

Jezblog :-))) NYC @ November 15, 2015, 11:11 pm

Order me a Hot Chocolate.. I`m just getting me coat… xx


---

PaulS @ November 16, 2015, 4:22 pm

Eggs over easy on toast with that ? hehehehehe…… :-))))) XXXXXX


---

Jezblog NYC :-)) XXX @ November 16, 2015, 4:35 pm

Sounds good?… mmmmmmm, Do I need to bring my wallet or just give your name and it goes on the slate? hee hee Stay Safe Bro xx


---

PaulS @ November 16, 2015, 5:31 pm

The slate is good they trust me round there….. one of these days Im gonna be able to pay em back for all the breakfasts I owe on :-))) hehehehe……


---

Jezblog NYC :-)) XXX @ November 16, 2015, 10:09 pm

very thoughtful and very sad


---

Phoo Magazine @ January 3, 2016, 1:21 pm