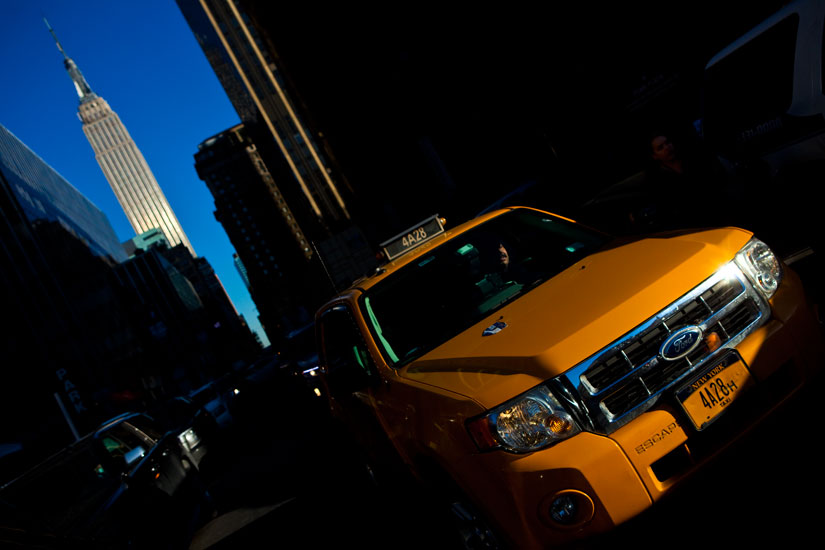 I read this today on the AP news wire :
–
"NEW YORK (AP) — New York City's storied yellow cabs are outnumbered by limos and black cars.
Uber cars, often black sedans that are summoned with smartphone apps, now outnumber the yellow taxis that city riders have hailed in the street for generations.
It was a changing-of-the-guard moment that passed with little fanfare this week in figures released by the city's Taxi and Limousine Commission: 14,088 registered Uber cars compared with 13,587 yellow cabs."
–
Woooooow ………. 'it's not over till the fat lady sings' .. as the saying goes in America ……. And of course the mighty yellow cabs of New York City are still rolling ……… but the mood music is kinda changing ……… Could that be the hint of a slightly larger framed woman I can hear warming up just off stage at the back ??? ……….
Cheers Jez XXXXXXX
www.jezblog.com
[ 14 ] comments
Yeah going digital – it messed up black and white, then being a photographer…then being a yellow cab driver!


---

NedLudd xx @ March 23, 2015, 4:13 am

I need to borrow a wrench to smash up the spinning Jenny then all those servers in San Francisco. .. thanks Ned


---

Luddites R us @ March 23, 2015, 9:51 am

I need to borrow a wrench to smash up the spinning Jenny then all those servers in San Francisco. .. thanks Ned


---

Ludwig esp @ March 23, 2015, 8:07 am

Spellcheckers r us……f¢¢¢¢in Luddites xx


---

Den Ddul xx @ March 25, 2015, 4:56 am

The Spell Check on my phone makes me want to smashing the food rucker


---

Luddites R us @ March 25, 2015, 1:09 pm

There have always been many more actually… about 35,000 to 45,000 black,uber,gypsy combined against the yellow taxi. Uber just started doing the gypsy thing differently and more efficient. A few people who own many medallions unhappy right now, especially with the green ones now too…she may be singing, and the medallion owners are scared as I would be too, but there is something def fishy up the TLC sleeve for sure…I tell people to hold on and wait for the trade centers to open, then we can truly gauge how it will turn out for yellows which I think will be positive..and you're one up on me now bro, I'm no longer a taxi driver, just a full time photographer, thats why my central casting look will stay even though my phone doesn't ring as much anymore and finances are always dim lololol. Let me know when your here bro because I still have a friend who wants to become a driver and he'd like to use those cards. Hope all is well with you and travels are treating you safely and sound. Cheers bro !! ~Eddie


---

kingofnewyorkhacks @ March 26, 2015, 11:22 pm

Hello is there anybody in there?


---

Punk Floyd xx @ March 31, 2015, 3:38 am

I caught a fleeting glimpse
Out of the corner of my eye
I turned to look but it was gone
I cannot put my finger on it now
The child is grown
The dream is gone
I have become comfortably numb.

---

Pink certainly flowed @ March 31, 2015, 6:39 am

I caught a fleeting glimpse
Out of the corner of my eye
I turned to look but it was gone
I cannot put my finger on it now
The child is grown
The dream is gone
I have become comfortably numb.

---

Pink certainty flowed @ March 31, 2015, 6:40 am

Pink disgusts me :))


---

Pattaya Phil xx @ April 1, 2015, 8:10 am

Pink disgusts me …. in a good way 🙂


---

Lilly the Pink @ April 2, 2015, 9:42 am

She is fantastic really :))


---

Saigon Ho xx @ April 3, 2015, 4:28 am

That is undeniable 🙂 Quick I need my medication 🙂


---

Uncle Ho @ April 3, 2015, 7:04 am

Nice Capture!!!! It's being ages bud…How you?


---

N.Kama @ April 3, 2015, 11:21 am