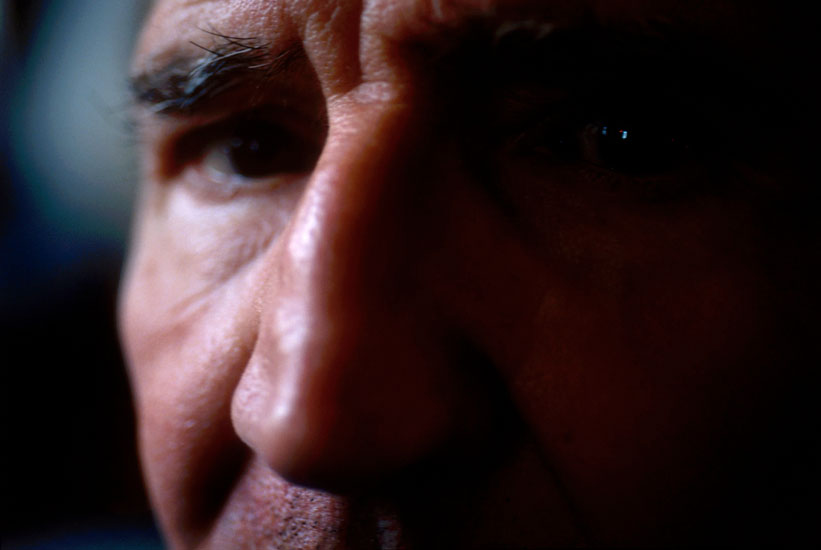 Mad Frankie Fraser' has died ……. an enforcer for the legendary underworld gang's of 1960's East London …….. he was associated with both The Richardson's and also the even more iconic crime gang bosses 'The Kray Twins' ……… 'Mad Frankie' was also sometimes called 'The Dentist' because he was in the habit of pulling out his bosses enemies' teeth with his pliers …….. grim stuff …… I think he was sentenced to 20 years for the murder of 'Jack the Hat McVitte' ??? ……….. (Or someone else with a similarly unlikely sounding classic crime novel name…. by the way ….. this is all written without any kind of 'fact checking' or current research on my part ….. so do not quote me on any of this hehehehe) …….. In the end I think he ended up serving something like twice as long? In prison as he was originally sentenced for? …….. thats the exact opposite of 'time off for good behavior'…… I think he was charged with attempting to murder a prison warder while inside a high security prison …….. So he also spent time in Broadmoor a high security place for the dangerously insane criminal ….. after he was sectioned following a prison uprising ? and attack on prison guards ? ……… I met him after he was finally released …… I think he had done 40 years of prison time at that point ????
When I made the picture above we were just off 'Brick Lane' at the 'East End Boxing Gym' a place he and the Cray's would frequent, do their deals, and also sometimes fight, way back in the 60's. …… 'Mad Frank' was pleasant enough when I met with him ….. he only threatened me in a joking way …… gulp …… but he would not pose for pictures for more than a second or so …….. I would have hassled him to cooperate more fully …… but hey …… I kinda thought it was best not to wind him up or push him too much ……. you know what I mean?
He was until very recently living in sheltered accommodation for the elderly …… but he still managed to get an 'ASBO' an "Anti Social Behavior Order" served against him …… due to a fight with a fellow resident over a chair ….…. those ASBO's are something more often associated with violent criminal youth ……… but he was in his late 80's at the time ……….
Anyway he has finally passed away today at the age of 90 …….. gone off no doubt to threaten and intimidate folk's in pastures new ……….
Cheers Jez XXXXXXX
www.jezblog.com
[ 10 ] comments
Yeah but the streets were safe to walk back in them days and they only hurt their own kind etc etc blah blah blah..nasty piece of work who should have been given one last fag, then put up against a wall and shot decades ago!


---

The voice of reason xx @ November 28, 2014, 1:55 am

Yes the bizarre thing is he probably smoked hundreds of thousands of cigarettes and made enemies of some of the most dangerous folks in Britain while being an enforcer 'soldier' for the Krays……. an yet he still lived to be threatening folks in his eighties and finally dies only because of some crap doctoring in his nineties ….. if they had not done that operation on his leg no doubt he coulda still kicked their heads in……. hehehehe……..Cheers bro Jez XXXXXXXX


---

Jezblog Detroit :-)) XXX @ November 28, 2014, 2:04 am

The weird thing is, it's not so much the vicious criminal lifestyle that appalls me so much as the dubious cult of personality that grew up around the likes of "Mad" Frank and the Krays etc, they must have been doing pretty well out of all those books that they sold…really, who reads that shite??


---

Jack the Belcher xx @ November 28, 2014, 2:37 am

I know …. the Krays had swinging London embracing them from the beginning and Mad Frank et all had all those idiots not only buying the books but going on the mad Frankie Fraser tour of London in which you could go on a bus and have him point out basements where they chopped up Jack the hat etc…… I did that …. in my professional capacity…. but at least I was truly embarrassed to be asking for the Mad Frank tour at Victoria bus station….. there were people on the bus who had tattoos of the Krays indelibly drawn on their skin? What was going on in their brains?????Cheers bro Jez XXXXXX


---

Jezblog Detroit :-)) XXX @ November 28, 2014, 10:05 am

Yeah there truly is something seriously wrong with that whole culture, just depressing and retrograde, although it always makes me giggle to think that apparently both the twins were actually gay, despite Reggie being, albeit briefly married, yet the folks who go in for all that dumb, shitty idol worship of the Krays are probably dyed in the wool homophobes to a man and woman..hilarious :))


---

Jack the Belcher xx @ November 28, 2014, 10:21 am

Yeah there truly is something seriously wrong with that whole culture, just depressing and retrograde, although it always makes me giggle to think that apparently both the twins were actually gay, despite Reggie being, albeit briefly married, yet the folks who go in for all that dumb, shitty idol worship of the Krays are probably dyed in the wool homophobes to a man and woman..hilarious :))


---

Jack the Belcher xx @ November 28, 2014, 10:21 am

:-)))))))) hehehehehe…….. yeah funny to think of those homophobic hard knocks worshiping a couple of gay blokes hehehehehe……


---

Jezblog Detroit :-)) XXX @ December 2, 2014, 3:22 am

Funnily enough both the twins . (it turns out) were gay…somehow I imagine that a good deal of the folks who bought their books/bought into their vile self mythology are a touch on the..shall we say..homophobic side…hilarious w h energy you stop to think about it!


---

Beryl the Ponce xxx @ November 28, 2014, 11:56 am

As an assistant we took some portraits of Peter Medak, he was the director of the film "The Krays" starring the Kemp brothers and Billie Whitelaw.
We did the shoot in various pubs and clubs in the East End where The Krays hungout.

---

Harv.! @ November 29, 2014, 10:38 pm

Yes I rolled past a fair few of those places with Mad Frank he gave us a running overview of the places they used to hang out and the basements they had used for torturing people he was certainly proud of those days and the things he had done and oddly folks kept coming up to him to chat and get autographs …. weird stuff really …. but he definitely had folk hero status like the the Karays themselves …… I find it kind of odd ? But I guess I was myself interested (if slightly appalled) to meet him so who am I to judge……Cheers bro Jez XXXXXX


---

Jezblog Detroit :-)) XXX @ November 30, 2014, 3:07 pm