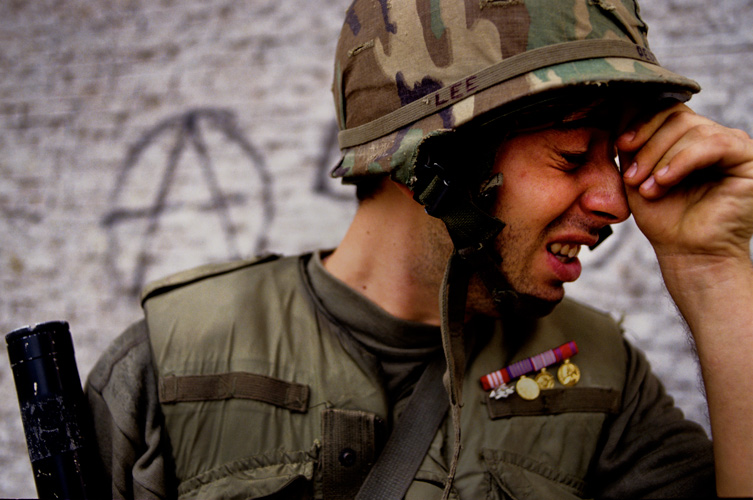 I see today the Military has announced it is spending millions of dollars through DARPA to develop a brain chip to help address and even cure? PTSD ( Post Traumatic Stress Disorder)……… Clearly it would be great if PTSD the mood swings, depression and anxiety that accompanies it could be a thing of the past. Although even if I was a soldier suffering from PTSD Im not sure I would fancy having some kind of computer chip inserted in my head and attached to my brain ……. well I certainly wouldn't really fancy being the first to get that treatment.
I was interested to see this. I had discussed PTSD only yesterday with Alex Hannaford the writer I was working with in Arizona. He is closely involved with the 'Dart Center for Journalism and Trauma'. I was fascinated to discuss with him the centers work of addressing the the physical well being of journalists but also the work of addressing the head space of journalists who have experienced and or covered violence and trauma of all description.
We actually met up socially with a couple of other journalists one evening in Tucson, all of whom had lost friends in the horrific shooting of Congresswoman Gabby Gifford and her staff and supporters, they said they had found the Dart Centers intervention helpful following their coverage of that outrage..
People used to ask me: 'How come you journalists don't get PTSD ?' I thought back then I don't know ? Maybe its because we come and go…….. we don't necessarily do a 9 month tour of duty like a soldier…….. but journalists were actually getting PTSD just like the soldiers.
It hadn't really considered properly that I might really have it too until I heard reporting of the first US woman soldier's returning from the war in Iraq and talking about their PTSD. They were so eloquent on that paerticular NPR radio show. I realized I had a mild form of most of the symptoms they were describing ……… It was obvious really when I properly addressed it ……… clearly I had some low level of PTSD ……… I guess its inevitable really ………
Cheers Jez XXXXXXXXXXXXXXXXXXXXXXX
PS ……… RIP Maya Angelou ……… Today might be a good day to remind yourself of this : Maya Angelou speaking at the inauguration of Bill Clinton as President
[ 11 ] comments
Well said Jez, a good account and an interesting thought or two to consider. I wouldn't like to think of Ken with a chip in his head either! It makes a lot of sense that journalists and photographers in a combat or any other stressful situations would be affected, especially as you are having to capture the horror as it happens in such a detached manner at the time. In the same way as a soldier has to detach himself from what he has to do at the time. It's when you get back and start remembering that it all hits you. And then you have to do it again…and again. Take care x Take Care


---

Cathie Palmer @ May 29, 2014, 4:59 am

Yes Cathie, I am sure now I think about it looking back …. That the business of not allowing the emotional reaction that would be obvious at the time really is root of PTSD …….. Clearly to be a functioning soldier or indeed a photojournalist in a traumatic/hostile/war situation you need to suppress the outward expression of any emotion ……. Only that way can you do your job properly at the time. But I guess that stuff is kind of stored up for later……..I had a very clear example of just that in a very specific situation. M my son was hit by a car ……. I ran to help him ……. as I ran I slightly slowed not to be out of breath and panicky as I arrived just as I would if I was working in a traumatic situation with my cameras….. as I have done on thousands of occasions ….. things start to go in almost in a slow motion as you become hyper focused and hyper aware because everything really matters …… M was unconscious in the road …….. I did everything correctly …… not moving him checking his breathing and pulse…… I did not allow any traffic through because he would have to be moved ……. I even photographed the damaged car that had hit him …… so the doctors could know the speed of the impact and how it had hit him…….. as he came round I chatted and joked with him but I kept him absolutely still ……. when the ambulance crew arrived i had stationed people to direct them to the right place ……. they brought their special stretcher for potential spinal injury they moved him very carefully and tied him to the stretcher……. then we went by ambulance to hospital…… me joking and messing with M to keep him happy in the ambulance.

In the end he did not have spinal or neck or drastic head injuries and he made a full recovery.

It was all fine ….. Mothers of other children present said how they were so glad I knew exactly what to do and was so calm ……. I guess its a useful skill in an emergency.

But 8 months later I was photographing in a teaching hospital ……. They brought out the same stretcher …… for the para medic trainee's to train on ……… I recognized it immediately …….. and was suddenly overwhelmed …… I went to the bathroom to cry ……. I could not stop crying for 20 minutes ………….

I had seen my own small son crumpled and unconscious even possibly dead lying on the road and I had done only the correct and proper actions ……. At the time no expression of emotion ………..

It was right and correct at the time ……. but in the end unbeknown to you that stuff is stored up for later.

That is a very specific example anyone could relate to……… the rest is so much more messy I don't understand it myself ……. but that example demonstrated to me in an absolutely clear way …… you are carrying that trauma with you and it can just spill out in ways you yourself cannot expect or predict.

Hey I don't have to tell you …….. You know enough about PTSD from your own experience :-)))))))))))

I have been in thousands of traumatic situations through my work in the end that stuff is gonna affect you for sure.

Cheers Jez XXXXXXXXXXXXXXXXXXXXXXXXXX

---

Jezblog GA :-)))))))) XXXXXXX @ May 29, 2014, 10:45 am

Thank you for your reply Jez, I am so sorry to hear about your son and am so glad to hear that he is ok now. It's possible that 'down the line' he will need your support in the same way. I can see that you will be great at seeing him through it. I have been friends with several ex – policeforce who have had the same experience of witnessing terrible accidents and having flashbacks etc later, also the ambulance and fire crews have it too. I don't think that anyone who hasn't either suffered PTSD or witnessed someone going through it has any inkling of what it can do to a person's mind. As you say, I know from first hand. It's 20 years since I first met Ken and it still affects us daily. This business with Stan Collymore's Twitter comments has distressed thousands of people serving in the Armed forces along with the veterans of the Falklands Conflict and their families. We are gathering momentum in both the press and through the social media sites to get this redressed. He has insulted the memories of the 255 men who died there and those who have returned and are still suffering from PTSD and physical injuries. Ken's blog had over 70,000 hits after he wrote an open letter the the stupid man (though you know Ken, it was rather tongue in cheek but got the point over!!)Letters are being written to as many of the people in power as possible (miliary charities, BBC, Press and even the PM! Take care x


---

Cathie Palmer @ May 29, 2014, 12:42 pm

I don't know how anyone would not suffer after experiencing first hand the inhumanity and horrors of war. You would have to be a psychopath to come away without some form of PTSD.


---

RB @ May 29, 2014, 6:49 am

Its true…….. collectively it all builds up ……. there is no way you can be an unaffected by stander witnessing such tragedy and human suffering …… but I really thought early on I was not suffering classic PTSD ……. the only time very early on in my career I definitely thought I am having an uncontrolled physiological reaction to stress and trauma was after I had been in a crowd in to which grenades had been thrown…….. around me the explosions killed people completely randomly ……. after that for a while I simple could not stand in crowds for a while without becoming incredibly agitated and stressed ……… that affect faded …… but others have come …… in the end you understand inevitably you have some level of classic PTSD.Cheers Jez XXXXXXXXXXXXXXXXX


---

Jezblog GA :-)))))))) XXXXXXX @ May 29, 2014, 10:59 am

Gosh Jez when I consider your life and your work I do think it is as you say inevitably likely to affect you . But you always seem to be upbeat and having fun, I guess there must be a dark-side to having witnessed so much?


---

Annie Smith @ May 29, 2014, 4:34 pm

Im very privileged to have the life of interesting adventure and travel that I have had and I am very privileged to have been able to visit with people all over the world make friends and be present for all sorts of important moments in history and society. but also be privileged to hang out with people in just ordinary moments of work and play …… as part of all that i have witnessed acts of violence and war …… and seen suffering and poverty ……. through it all it is possible to find moments of humor and fun in it all…….. and I think there is some protection in finding the light-side of it all ….. but of course you are not really protected.Cheers Jez XXXXXXXXXXXXXXX


---

Jezblog GA :-)))))))) XXXXXXX @ May 29, 2014, 5:11 pm

Yeah, it's not protection…it's an ability to compartmentalize it. You shut it away in a part of your soul and think you can avoid opening that particular door…but sometimes it just flies open on it's own and there's nothing you can do about it.


---

Harv.! @ May 29, 2014, 7:49 pm

Thats it bro and there in lies the problem :-/// :-)))))))) XXXXXXXXXCheers Jez XXXXXXXXXXX


---

Jezblog GA :-)))))))) XXXXXXX @ May 29, 2014, 8:02 pm

Rollin in 'Alabama the beautiful' heading for Mobile :-)) XX


---

Jezblog Alabama :-))) XX @ June 1, 2014, 8:19 pm

Rollin over the State line into Mississippi 'The birth place of America's music ' :-))) XX


---

Jezblog Mississippi :-))) XX @ June 1, 2014, 11:20 pm