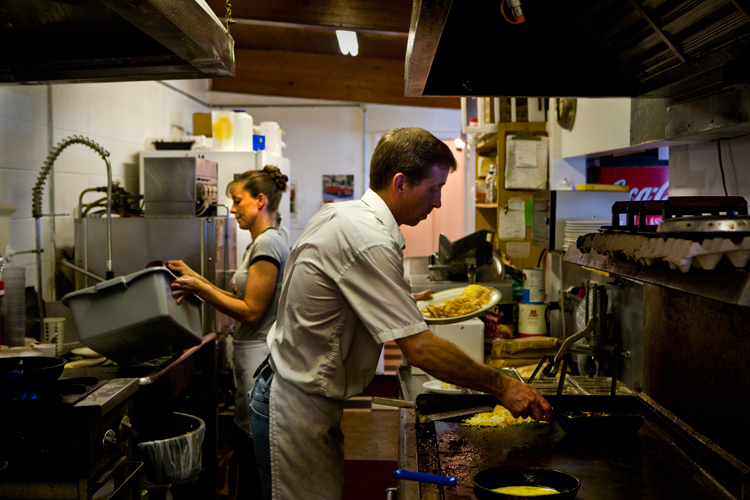 Image description:
So Matt who is in charge of all things numbers and organization tells me I have done 6000 miles in the Beast Car since we left Atlanta.
Yeah…. the Beast has rolled through Georgia, Tennessee, Kentucky, Indiana, Illinois, Iowa, Minnesota, North Dakota, South Dakota, Nebraska, Wyoming, Montana, Idaho, Washington, Oregon, Utah, Arizona, New Mexico, and now Colorado………. well strictly we are still in Colorado ……… its midnight we are still rolling……… Matt is driving I am one finger typing in the passenger seat ……….. hehehe……… hang on update……… We are running alongside a massive goods train that is making that classic American train wailing sound as it moves slowly in the night ……… Matt tells me we are almost in Kansas………
One of the biggest privileges and most interesting aspects of my life and this trip in particular is to drop in on and take an intensive peek at the lives of others in their homes and workplaces ……. We have met some great and fascinating people along the way……….. What I like …… What I am looking for I guess ….. Is not so much the tourist view of America …….. I am kind of involved in the reportage artist's attempt to see something of 'real life' ….. but in a random almost completely unplanned way ……. relying on good fortune and serendipity to give collectively something of a lifted outcome.
This picture above shows fry cook JT and waitress and pot washer Kimberly working massively rapidly and efficiently during the Sunday morning breakfast rush at The Hog Rock Cafe in Ontario Oregon……. a classic old style diner.
They were both so fast and deliberate ……. every movement is made so much faster than your average person would move ……….. when I mentioned this JT laughed he said at college he had watched a sociology film about the funeral industry ………. he was shocked by how slowly people in the funeral business physically moved around.
The funeral business might favor those who move very respectfully and very slowly but the kitchen of a classic diner needs people that move fast and really get things done in a hurry. ……. and these guys were moving fast and furious…. turning out the orders as they came flying in.
They were so pressured to do all their work on time for their hungry customers …… but they were both very friendly and accommodating to me and Matt ………… Like I say I love to be afforded the opportunity to drop in on such a busy scene and be allowed just to shoot and hangout. These guys seemed happy to be accommodating without any drama. Travis the owner of the Diner was also just as open and inviting. He seemed genuinely delighted in our interest in his restaurant.
If you are in Eastern Oregon anytime you should drop in on this very busy upbeat happy crew at The Hog Rock Cafe for a fine diner breakfast or indeed fine diner food anytime :-))))))
Update…….. We are now in Dodge City Kansas now………….
Cheers Jez XXXXXXXXXXX
[ 6 ] comments
I can smell that omelette from here. Do you agree that American bacon is disappointing?
Lee @ May 18, 2013, 1:30 pm
Matt had a fine omlette ……. I went for eggs over easy…….. with bacon…….. and tomatoes….. you are right as a Brit it strikes you
as not quite right at first…….. almost always cooked to a total crisp and no where near as lean as the stuff we assume is the correct
kind of juicier bacon…….. but in the end I have learned to love it the way it comes in the US …… and still be pleasantly suprised by
in the UK by the full British breakfast version……. hehehehe……. after all bacon is still bacon…… hehehehe……. :)))))))
Cheers bro Jez XXXXXXXXXXXXXXX
Jezblog Dodge City Kansas :))
@ May 18, 2013, 2:07 pm
The disappointment in US bacon, is as nothing to the disappointment in their sausages!!
Hugh @ May 19, 2013, 2:49 am
yes sausages have to be labeled 'Irish' to be anything like a British sausage…… hehehe……. in fact in New York everything
British……. like PG Tips tea bags and McVitties Jaffa cakes is available in the Irish section…….. weirdly all the 'Irish' stuff in the
'Irish Section' looks kind of British in my humble opinion……. but hey I would not really like to expound that theory too loudly in one
of those New York Irish Bars hehehehe…….. :))
Cheers Jez XXXXXXXXXXXXXXXXX
Jezblog Oklahoma City :))
XXX @ May 19, 2013, 10:56 am
But, seeing as the meal tends to weigh the same as your average 10 year old lets not complain Guys.. Hope those eggs were over easy
on the old bowels Bro.. hee,hee..Stay Safe Dudes
PaulS @ May 19, 2013, 3:09 am
Im not complaining …….. I love those mega breakfasts as much as the next guy…….. especially those mega huge classic US
ones……… but I often try not to eat all the pancakes and cake stuff like muffins that US breakfasts often incluede …….. ah yes I
guess the over easy eggs could be a problem anywhere else but not when prepared to perfection by JT ……. hehehehe………
Cheers bro Jez XXXXXXXXXXXXXX
Jezblog Oklahoma City :))
XXX @ May 19, 2013, 11:04 am