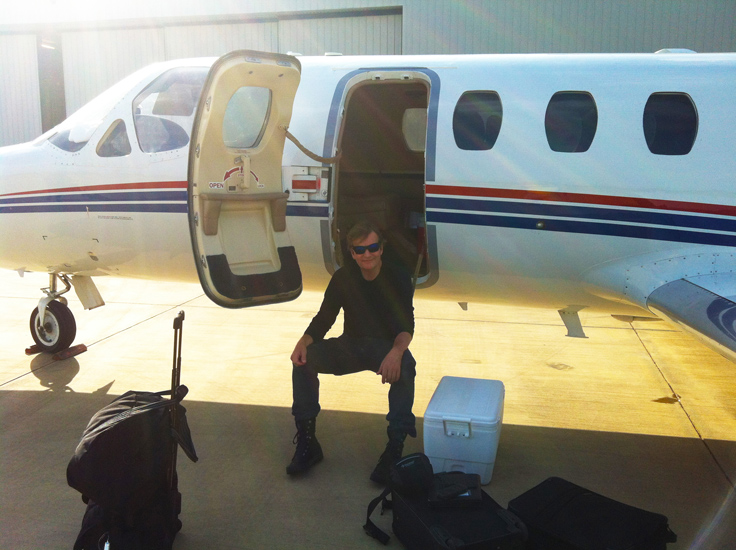 Well I have to be honest I virtually never get a jet plane for my own private use but hey it would be so much easier if I could travel like this a tiny bit more often ……….. hehehehe………… :-)))))))))))))
I have taken a fair few private planes and helicopters in the last few days and weeks and scores of commercial flights as ever.
In the last couple of months I have been working in the UK, Mexico, China and The Philippines and Vietnam, as well as a pile of American States ……… AZ, NY, GA, MS, LA. RI, VT, NH, CT…….. blah blah………..
Its been busy busy ……… but its been great ……….. tomorrow I'm off to shoot in Hawaii ………… then back to California ………… What's not to like?? :-)))) Hehehehe ……..
Talk to Matt if you need to get hold of pictures or if you have any more great things for me/us to do :-)))))))))))))))))))
–
Cheers Jez XXXXXXXXXXXXXXXXXXXX
–
PS…….. Thank you so much for your continuing interest in me and my work ……… you can always say hello anytime……… and follow what we are up to on www.jezblog.com
–
---
–
I sent this above as an email to everyone on our contact list ……… suffice to say its generated a fair bit of abuse hehehehehe ……………….. aw come on I'm only flying commercial today ……. on Delta……… to Hawaii :-)))))))))))) hehehe……..
Cheers Jez XXXXXXXXXXXXXXXXXX
–
PS………. Thanks to pilot Bill Henderson for taking the picture :-))))))))))
–
www.jezblog.com
[ 15 ] comments
Interesting story and nice photo 🙂


---

Buryan Photos @ June 17, 2014, 4:40 am

Thanks matey :-)))))))) Cheers Jez XXXXXXXXX


---

Jezblog GA :-)))))))) XXXXXXX @ June 17, 2014, 6:10 pm

I hope you cleaned it this time, last time I leant you my jet there were tequilla bottles everywhere and a stripper asleep in the toilet, lol ?
http://www.youtube.com/watch?v=7SxLnoEU51QHarv.!

---

Harv.! @ June 17, 2014, 11:36 am

Funnily enough I remember the tequila but the rest is kinda hazy hehehehe….. :-))) XXX Cheers bro XXX


---

Jezblog LAX :-))) XX @ June 17, 2014, 5:36 pm

I heard these St Mag films were being made……. kinda interesting the 3D …….. some looks better than others……. Stuart Franklins Tiannamen Sq looks cool ……. not sure the mighty work of Don McCullins Vietnam stuff needs or is improved any with it……. but overall its pretty interesting :-))))))))))))Cheers bro Jez XXXXXXXXXXX


---

Jezblog LAX :-)))))))) XXXXXXX @ June 17, 2014, 6:08 pm

…and a coolbox full of crushed ice and Möet, to accent your champagne lifestyle!


---

Bluesmobile 1 @ June 17, 2014, 2:31 pm

A couple of beers in there bro….. Nothing too ostentatious … We already have the plane … No need to go crazy …. Hehehehe….


---

Jezblog LAX :-))) XX @ June 17, 2014, 5:38 pm

Hope you had a few beers stashed in that cool box


---

Lee @ June 18, 2014, 4:21 pm

That cool box was mightily stocked…. Teas a very civilized trip with beers and all luxuries hehehe…. Like i say … I could get into a. few trips like this bro… The delights of Delta soon start to fade hehehe… Only kidding … I had a great flight from Atlanta to LA as tail gunner right next to the bathrooms … But they made up for it by upgrading me to first class for the LA to Honolulu leg … So all was good in the end … I am readjusted back to commercial carriers flying me after this mega aberation hehehe…. Cheers bro Jez XXX


---

Jezblog Honolulu :-))) XX @ June 19, 2014, 3:11 am

Yeah I bet it's all caviar and champagne on those private jets. Just remember where you're from!


---

Lee @ June 19, 2014, 1:21 pm

Lee I am trying to repress my inner Brummie but every now and then he comes out raging : Bostin…… Gis another two pints …… easy on the caviar !!!!!! hehehehe…….. cheers bro Jez XXXXXXXX


---

Jezblog Hawaii:-)))))))) XXXXX @ June 19, 2014, 4:43 pm

Hey JC can you email me a couple of those shots of Pink and Tom that you shot on the rooftop bar…both parties seem to want a copy for old times sake!!


---

Wacko Jacko xx @ June 19, 2014, 1:03 am

I had better start digging I remember Pink and the whole crew of course but I actually have forgotten the pics … I should sleep more and drink less ….hehehe…. I am running about a bit now in Honolulu .. Hopefully I can find that stuff on the flight back.. If I have the relevant drives with me… Otherwise iill have to get Matt on it … he will love to search for Pink … anyone would hehehe…. OK baby I'm on it …. :-)))) XXX


---

Jezblog Honolulu :-))) XX @ June 19, 2014, 3:17 am

I'm having dinner with her tomorrow… I really am slipping off the edge :-))


---

Wacko J xx @ June 19, 2014, 4:08 am

Come away from the edge Mr Wako ……. there is no need for this ……. Well to be fair there probably is ……. hehehehehe………


---

Jezblog GA :-)))))))) XXXXXXX @ June 19, 2014, 8:34 am